To ensure that the N95 mask is providing the intended levels of protection, each user should receive proper training and practice time on the Application, Seal Check, and Removal/Disposal Procedure. This tutorial is created by Tronex International. Inc,  the one of the most trusted and well-respected leading global brands of disposable PPE. Tronex N95 Particulate Respirators are carefully designed and meticulous manufactured for exceptional performance and fit.
Before we dig into the tutorial, you might want to take a look at what is "NIOSH N95 Mask". National Institute for Occupational Safety and Health (NIOSH) is the U.S. Government agency responsible for the certification and approval of respiratory protective devices for occupational use. It also addresses quality assurance requirements for the manufacturing of respiratory protective equipment. The approach to approval is that anybody can manufacture and sell any type of respiratory protective device, but only those that meet or exceed all of the requirements established in the 42 CFR 84 standards are acknowledged by NIOSH, and only those that have been NIOSH certified may be marketed as a NIOSH-approved respirator.
Instructions for Application:
1. Cup the respirator in your hand with the nosepiece right-side up, and the headbands hanging freely.
2. Position the respirator under your chin and the nosepiece on the bridge of your nose.
3. While holding the respirator in position, pull the TOP headband over your head and rest it at the crown of the back of your head.
4. As you continue to hold the respirator in position, pull the BOTTOM headband over your head and rest around your upper neck, below your ears.
5. Position the respirator under your chin and the nosepiece on the bridge of your nose.
6. (Applies to 536N95C & 511N95S Only) Using both hands, mold the malleable nosepiece to fit snugly against the nose bridge and face below the eyes.
7. Using a mirror, further check and adjust edges to provide a good seal on the face.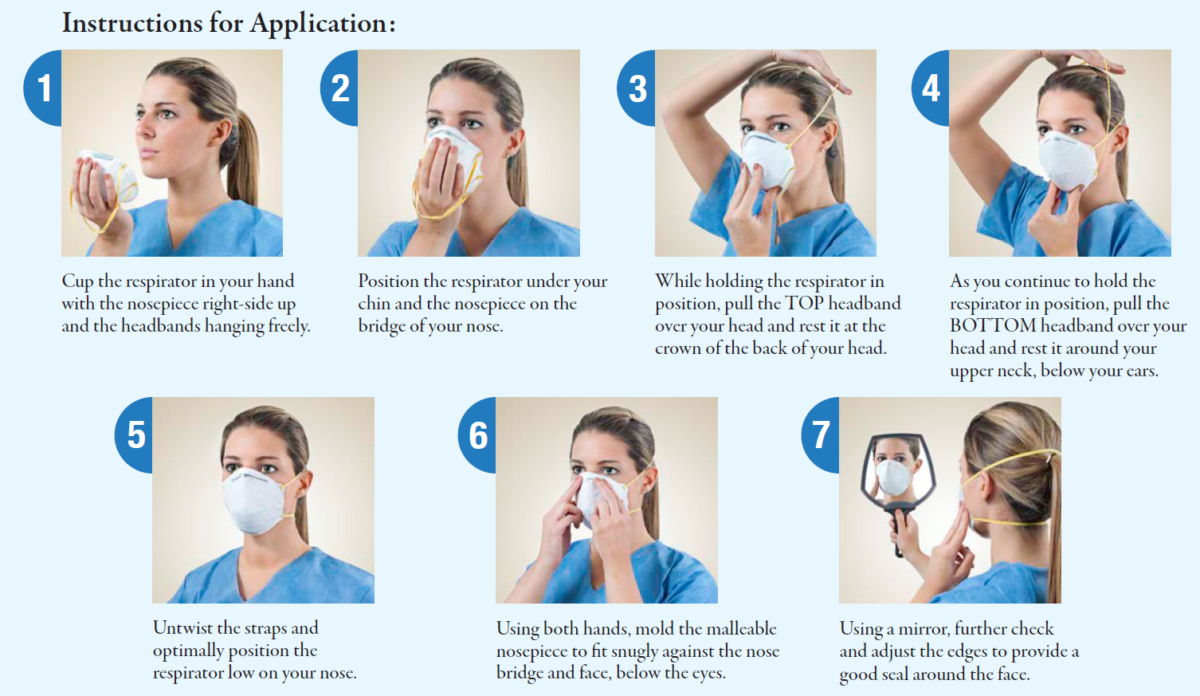 Seal Check:
A proper Seal Check must be performed before each use of the Tronex 536N95C & 511N95S Particulate Respirator.
To perform a Seal Check, first ensure the respirator has been properly donned according to the Instructions for Application. The wearer should then forcefully inhale and exhale several times. A successful Seal Check should result in the respirator collapsing slightly upon inhaling and expand upon exhaling. The user should not feel any air leaking between his/her face and the respirator.
In the event of a poor fit, the wearer should adjust the respirator until a successful Seal Check is completed
This Article Content has been made available for informational and educational purposes only. NorthStarlight hereby disclaims any and all liability to any party for any direct, indirect, implied, punitive, special, incidental or other consequential damages arising directly or indirectly from any use of the Article Content, which is provided as is, and without warranties.