The proliferation of STEM-related careers across a wide spectrum of fields means an abundance of work performed in laboratory settings. Professional roles within healthcare, scientific research, pharmacy, law enforcement, food safety, and environmental studies, to name a few, may involve working in a lab. PPE (personal protective equipment) is almost always necessary in lab work to protect health, science, and safety professionals from chemical exposures and other hazards.
What PPE is necessary for working in a lab?
The common image people may have of a lab worker likely includes one wearing a lab coat, gloves, a face mask, and protective eyewear. Each of these are critical pieces of PPE for lab settings, though not all may be necessary for every task. Depending on the type of work being performed, PPE selection may include:
A lab coat, lab jacket, or lab gown to be worn whenever chemicals or biological materials are handled.
Gloves, such as disposable gloves in chemo-rated latex or nitrile formulations, should be worn whenever handling hazardous materials, even in small quantities. No chemical-resistant glove protects against all chemical hazards so it is important to select the appropriate glove for each task.
Eye and face protection are extremely important when working in a lab to guard against hazards that could cause eye or facial injury. Safety glasses and goggles provide protection against impact injury, while goggles designed for chemical splash protection are necessary for handling chemicals.
Lab face mask options range from lightweight procedure face masks to respirators that provide effective protection against the inhalation of dangerous particulates.
The key to selecting protective wear for any laboratory setting is to choose the appropriate protection for the hazard present. Consulting with lab supply manufacturers or distributors for guidance may help guide selection on what and where to buy.
Lab coat, lab jacket, lab gown overview
A lab coat or other protective garment should be worn whenever chemicals or biological materials are handled, to protect clothing and exposed skin from contaminants. Lab coats and jackets provide optimal protection when buttoned or securely snapped closed.
When choosing a disposable lab coat or jacket, consider the quality, fluid resistance level, and durability aspects of each. Tronex TCM509G, for example, is a mid-length lab jacket crafted from fluid-resistant spunbond. Designed to provide reliable protection and comfort, it is ideal for low to moderate fluid-exposure settings. Tronex SMS573 Series offers a full-length lab coat option appropriate for moderate to high fluid exposure with multilayer spunbond craftsmanship.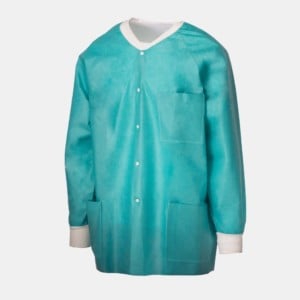 Comfort Multilayer Disposable Lab Jackets
SMS573 Full-length Lab Coat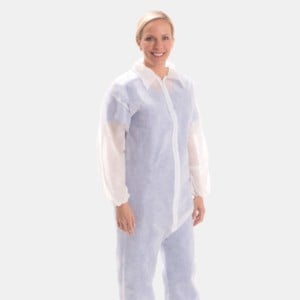 Fluid-Resistant Disposable Jumpsuits
Multilayer Spunbound AAMI Level 2 Isolation Gown
If a lab jacket style is preferable, Tronex SMS551 Series with snap-front closure and soft knit cuffs and collar is designed to provide reliable protection and comfort. These durable, fluid-resistant lab jackets are ideal for moderate fluid-exposure settings.
Lab gowns are also a popular option, offering full-body coverage. Tronex 5800CHEMO Series Gowns meet AAMI Level 2 specifications for fluid resistance and features specialized construction and high-comfort design and fit. Fluid-impervious coating provides leading barrier protection against exposure to blood, bodily fluids, chemicals, and other infectious substances.
A range of additional options are available depending on need and preference.
Disposable gloves for lab protection
While some lab work may require non-disposable work gloves, disposable gloves are often chosen for routine laboratory work for convenience and cost effectiveness. Latex and nitrile formulations are the most popular and protective in lab settings. It is important to choose the appropriate glove type – i.e., chemical resistant, heat resistant, etc. – for the hazard present.
Chemo-rated examination gloves are considered a top choice for a range of lab applications as they offer barrier protection from bloodborne pathogens as well as resistance to chemotherapy drugs and other chemicals. A preferred disposable glove to clean lab tools, Tronex 3649 Series Latex Exam Gloves are specially formulated extra-thick gloves with 12" extended cuff length and puncture resistance.
Tronex 9128 Nitrile "NEW AGE®" Exam Gloves are crafted from an innovative nitrile material formulation that fosters exceptional fit and feel properties while offering chemo-rated barrier protection. For those with sensitive skin, Tronex 9770 Series Nitrile "NEW AGE®" Exam Gloves feature a specialized accelerator-free nitrile material formulation designed to further reduce the possibility of dermatitis while providing exceptional barrier protection.
For lab work that requires additional protection, Tronex 9662 Nitrile Exam Gloves offer a heavy-duty, extra-thick style, chemo-rated style with 12″ extended cuff and fully textured surface for optimal strength, puncture resistance, barrier protection, and chemical resistance.
As with all protective lab wear, finding the right lab glove is a matter of preference balanced against careful consideration of the particular setting and protection needs.
3649 Extra Thick Latex Exam Gloves
9128 Value Pack Nitrile Chemo-rated Exam Gloves
9770 Accelerator-free Nitrile Chemo-Rated Gloves
9662 Extra Thick Nitrile Chemo-rated Exam Gloves